ADALINE PHETTEPLACE
Wife of David Thurber
Mother of Cora Adaline (Thurber) Button
The following photograph and letter were provided by Virginia and Edward Monaghan. The photograph was passed down through the family to Edward Monaghan, the first great grandchild of Cora Adaline Thurber and David Mark Button. The letter was written by Cora to her son David Glenn Button, grandfather of Edward Monaghan.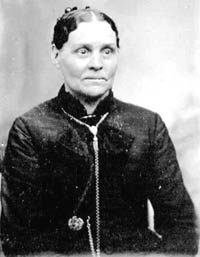 Adaline Phetteplace and David Thurber were married 29 Jan 1849. David Thurber was the son of Peter B. Thurber (b. ca 1801 NY) and Nancy Webb (b. 4 July 1796). Peter's parents are untraced. Any information on parents of Peter B. Thurber would be appreciated. email address: florence@gargaro.com
Text of letter from Mrs. Cora A. Button to her son Glenn.
Jan. 18 1944
Dear Glenn,
The enclosed is a picture
of your grand mother
Thurber (my mother) given
to you on your Birthday
and when you are thro.
with it, please it ought
to belong to
Eddie Monaghan II
as he is my first great
grand child, do we agree?
Am not quite sure of the
date it was taken, but know
it was before 1878.
You are to keep it
as long as you want it, Mother





Adaline Phetteplace
Daughter of Eddie Phetteplace
& Martha Lamphere Phetteplace
Born August 24 - 1829
at Norwich Chenango Co. N. Y.
Married to David Thurber
January 29 - 1849
Died March 25 - 1911
at Machias N. Y.
Buried at Allegany New York