SILAS COVELL'S 1795 LETTER TO SAMUEL THURBER, JR.

The following letter was provided by Richard Gardner. Richard found the letter among important papers kept by his father.
This letter was originally sent by Silas Covell to his father-in-law Samuel Thurber Jr. (1724-1807) after the death of Samuel's son Edward Thurber (1761-1795).

Samuel Thurber Jr. was married to Hopestill Martin and had eight children including daughter Rebecca, who m. Silas Covell. Samuel's son Edward married Sarah "Sally" Field.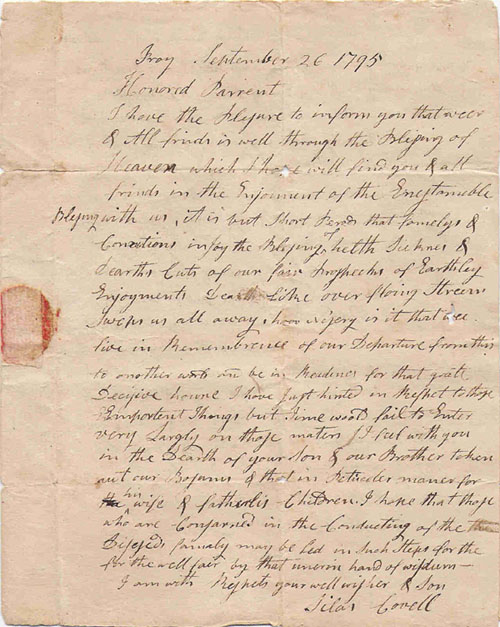 Text of letter from Silas Covell to Samuel Thurber Jr.

Troy September 26 1795
Honored Parrent
I have the plesure to inform you that wee & All frinds is well through the blessing of Heaven which I hope will find you and all friends in the enjoyment of the enestameble Blessing with us, it is but short perod that familys and connections injoy the blessing of helth Sicknes & deaths cut of our fair prospecks of earthley enjoyments Death like over flowing streems sweps us all away. how nesery is it that wee live in remembrence of our departure from this to another world and be in readines for that grate decisive houre I have just hinted in respet to those emportent things but time woold fail to enter very largly on those maters. I feel with you in the dearth of your son & our brother taken out our bosoms and that in peticuler maner for his wife and fatherlis children. I hope that those who are consarned in the conducting of the disesed family may be led in such steps for the well fair by that unevin hand of wisdum–.
I am with respets your well-wisher & son
Silas Covell